Our rally outside the college's annual fundraising gala (TOMORROW: May 3, 5:30pm) is shaping up to be a lively, popular event. We have commitments from a large number of you, from undergraduate and graduate students at Barnard and Columbia, and from allies in the NYC labor community.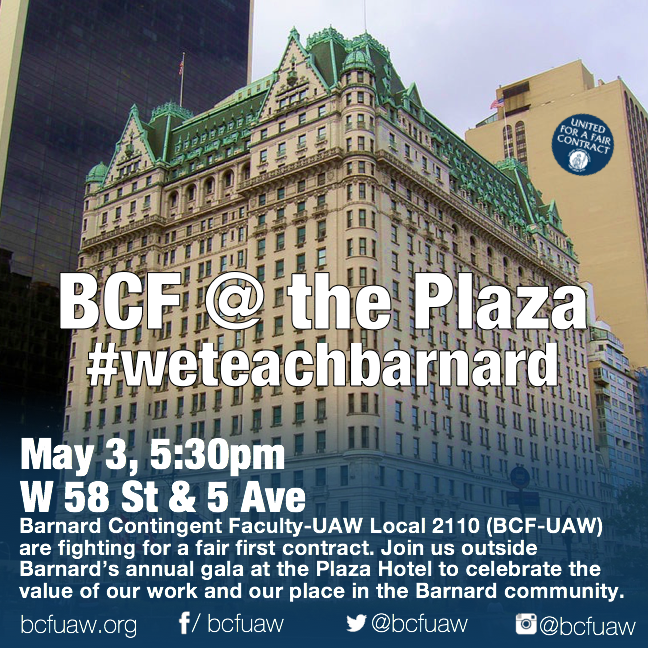 An update on contract negotiations: On Friday, April 29 the BCF-UAW Bargaining Committee met for the 6th time with the administration's representatives. The tenor of negotiations has improved slightly since our first two meetings, particularly after our successful Contingent Faculty Awareness events on April 13. However, substantive progress on our proposals remains minimal. Below you'll find an update on major contract provisions to which the administration has replied. We have not reached agreement on any of them and significant differences remain between our proposals (modeled on Barnard's existing worker-friendly contracts) and theirs (with onerous language offering few to no protections).
The most important update, however, is that the administration still has not made any offers on wages and benefits. We asked again for them to move on this and were offered the following responses:





Bargaining Committee member Georgette Fleischer spoke on our behalf:

"We're teachers, we work with students, and we're a little perplexed, we feel Barnard is supposed to be about teaching and learning. … So we're asking you to think about the college's priorities. We're here to assert the fact that we are a priority. We have surveyed our members, and the economic proposals you have given us no response on–salary, and benefits like health insurance–are the proposals that are most important to our members, so we would like you to come back on May 19th with something concrete in terms of salary and benefits to put on the table. There is a discrepancy between Barnard saying that it values our teaching and the fact that it does not compensate us fairly."

Here is where the administration stands on some other key contract provisions:
Grievance Procedure: they reject access to neutral arbitrators.
Appointments: they've offered absolutely no job protections (much less seniority protections).
Management Rights: they demand that they have sole discretion regarding teaching decisions, including "how" what we teach is taught.
Academic Freedom: their academic freedom proposal falls far short of AAUP standards and is instead focused on our "responsibilities."
Professional Development: they've offered a professional development model that would cover the cost of about one book per faculty member.
We need to continue to urge the administration to bargain with us in good faith, and we hope you can come out tomorrow to help in this effort.
[aps-social id="1″]