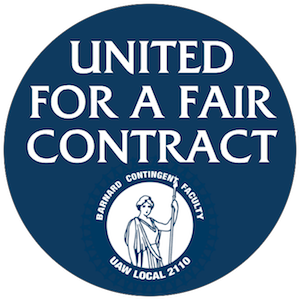 We are currently in negotiations with the Barnard College administration over a contract for the contingent faculty. BCF-UAW is represented at the bargaining table by our elected Bargaining Committee and officers from the UAW. The Barnard College administration has chosen to retain the services of the notoriously unionbusting law firm of Jackson Lewis P.C. The outside counsel from Jackson Lewis is assisted at the table by the Associate Provost and staff from Human Resources and the General Counsel's office.
In these negotiations we are seeking improvements to our working conditions to remedy many years of stagnant pay, inconsistent practices across departments, and lack of transparency around appointments and renewals. We are also seeking significant improvements for the majority of our unit who lack benefits, receive no support for professional growth, and have no job security from semester to semester.
Updates on Bargaining
Some of Our Initial Proposals:
Recognition of our academic freedom rights
Institution of a fair grievance procedure
Increased minimum per-course pay
Access to existing group health plans
Access to existing flexible spending, commuting, retirement, and other benefits
Allocation of funds for our professional development and teaching expenses
Recognition of seniority and longevity and provision of paid and unpaid leaves
Transparency in creating, posting, filling, and renewing positions
A mechanism for dues collection
What happens next?
At every stage in forming a union the administration has put significant hurdles in our path, yet at every stage we have prevailed. We have prevailed due to the commitment of our members, the support of our academic communities, and the willingness of local elected officials and national activists to step up for us. By strengthening our ties within our academic communities and sharing our concerns about our working conditions, we will again help the administration recognize the right path forward.