The BCF-UAW contract requires Barnard College to create an Adjunct Professional Development Fund to be administered by the union.
As a result of our first contract, the Fund will increase every year.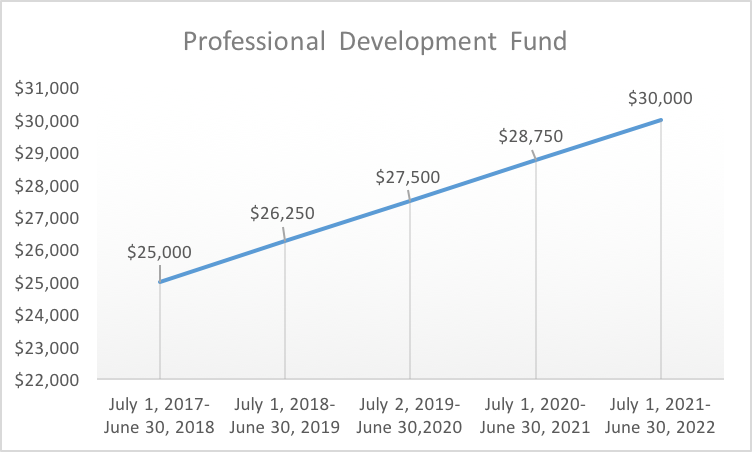 Who is eligible?
Post-probationary adjunct faculty, i.e., part-time Barnard faculty with at least four semesters of teaching.
How much can I request?
In the 2021-22 fiscal year, we are pre-approving payments of up to $2000 per faculty member (up to $30,000 total). You may, however, request more than $2000 on the application, and if there is money left in the fund at the end of the year, we may be able to further reimburse you.
How do I apply?
Click here for the 2021-22 application.
Is there a deadline?
No, we approve applications on a rolling basis until the semester's or year's allocation is depleted.
What is the approval process?
The BCF-UAW union representatives will process applications as received, confirming faculty eligibility and conformity of the request to the contract language. If there are questions, you may be asked to provide further information about your expenses. 
How will I be paid?
Typically the fund will reimburse you for pre-approved expenses after you have provided receipts or other appropriate documentation. However, we will consider all requests for qualified expenses incurred between July 1, 2022 and June 30, 2022.
What is the reimbursement process?
Faculty seeking reimbursement should work with their department assistant or administrator, who will assist in attaching original receipts (emailed/online receipts that are printed are considered original) and a copy of the approval email from BCF-UAW to a check request form. Faculty will typically be paid within 10 business days of when Finance receives the form. Please note that Finance requires itemized receipts for meals and transportation; they do not reimburse a general per diem.
What if I need to pay a third party?
Finance cannot reimburse faculty for a payment made to a private individual, but they can pay the private individual directly upon receipt of an invoice. If faculty want to use the Fund to hire an individual for services, contact Eileen Di Benedetto (edibened [at] barnard.edu) before hiring the person. She will assess if or what type of written contract is required.
What if I encounter difficulties in having approved expenses reimbursed?
Contact the BCF-UAW union representatives at bcfuaw [at] gmail [dot] com. They will facilitate the process.